If you think Pinterest is exclusive for teenagers who are looking for aesthetic photos and mid-thirties women pinning weight loss tips and home décor ideas, then you're missing out on a massive traffic driver.
Pinterest is arguably the most underestimated search engine on the Internet.
Unknown to most people, Facebook, Twitter, and Instagram are not the be-all and end-all of social media marketing platforms. In fact, Pinterest is better than bandwagon social media platforms in many ways. For one thing, Pinterest pins are a hundred times more spreadable than a tweet, with a retweet average of only 1.4%. Also, 90% of weekly Pinterest users go to the social media platform to make purchase decisions.
Whether you're an e-commerce business owner or a passionate blogger, Pinterest is something that you should never overlook. In this article, we'll delve into why Pinterest is an excellent avenue for website owners and some tips to drive more traffic from this underrated social networking site to your website.
Why Pinterest?
There are many reasons why you should consider adding Pinterest to your marketing strategy. It might not be a social media giant like Facebook, which has 265 million monthly active users, but Pinterest is the fastest growing social networking site in history, garnering more than 100 million monthly active users in 2020.
As of January 2021, Pinterest is the 14th largest platform in the world, ranking lower than Facebook, Tiktok, Instagram, and Snapchat, but higher than Twitter.
It only goes to show that Pinterest is a force to be reckoned with. In fact, Pinterest marketing is also relatively easy. It's mainly all about visuals to entice your bloggers to click your link. For starters, you should just have a great mix of content (photo and video). A massive chunk of that content should be from your own sources, such as your social media account or blog. The rest of your content is from others, including repins and other people's blog posts.
Getting started with Pinterest
If you have a personal account, or if you haven't signed up yet, you will need to register for an official Pinterest for Business account to maximize the social networking site's marketing potency.
Here are the perks of signing for a business account:
Different settings – You get to name your profile with your business's name instead of the usual First + Last Name. Your Pinterest account won't be linked to your Facebook accounts as well.
Rich pins – These are pins uploaded on Pinterest that contain extra information included in the pin. A Rich Pin is like a premium version of a usual pin, making them more comprehensive, informative, and helpful for users.
Pinterest analytics – This is one of the newest features of Pinterest and arguably the most helpful too. Once you've verified your account, you will get instant access to tracking information. The data garnered from the analytics will help you gauge your Pinterest marketing efforts.
New tools – Pinterest has promised business account owners some new, exclusive tools in the future. Exclusive tools include the Pin It button, Promoted Pins, Widget Builder, and many more.
Different terms of service – The terms of service are a little tweaked to fit the demands of businesses in the platform, so make sure to read through the list. Rules such as "don't suggest that Pinterest sponsors or endorses," don't conduct promotions and contests "too often," "don't promote spam such as asking users to commend repeatedly," and many more.
Educational tools – Pinterest offers you so much more than marketing space. You can make use of Pinterest's educational marketing materials too to help you scale your website on the platform. In addition, there are interactive workshops (Pinstitute), webinars, and available resources for small businesses to learn from.
Here are the three common terminologies you should familiarize yourself with:
Feed – Pinterest feed is just your typical feed, which is a rundown of content, links, and other media from other users and boards.
Pins – These can vary from images, products, videos, and GIFs. They link back to the source or the website it came from. Therefore, pins make great sources of referral traffic to your blog.
Boards – Like folders on desktops, boards are collections of pins. When you are sorting various pins under one name, you're making a board for it. Having a collection of boards lets your followers search, find, and follow boards that resonate with them.
Tips and tricks to drive more traffic from Pinterest to your website
Ready to take your Pinterest marketing up a notch? Here are some tips you can apply to get the traffic your website deserves:
1. Conduct Pinterest keyword research
If you're familiar with SEO, chances are you've already heard the term "keyword research."
Just in case you haven't heard about it yet, keyword research is the process of looking for famous search terms and phrases people commonly type in search engines. And to appear in the top search results, you have to incorporate these topping keywords strategically in your content, so you have higher exposure.
Compared to Google keyword research, Pinterest is more accessible. Here are some techniques to help you find related keywords in your industry:
Use the Pinterest search bar – Simply type a relevant term in the search bar, and Pinterest will quickly suggest other popular keywords related to it. For example, if you've typed the word "diet," these suggestions will appear:
"diet" meal plan
"diet" plans to lose weight for women
"diet" meal plan Philippines
"diet" to lose weight quickly
"diet" break ideas
Explore Pinterest – A no-brainer technique is to discover what's hot and popular in your niche. Click the search icon, choose a topic, and Pinterest will provide trending searches, popular articles, and hot ideas that attract more users to the platform. This is not only great for keyword research, but competitor research as well. The latter is the process of finding out which keywords your competitors are targeting.
2. Curate and organize your boards properly
Managing your Pinterest business account is very different from maintaining your Facebook business page. Unlike Facebook, Pinterest allows you to develop multiple boards, each of which could highlight the category of a product or service you are offering.
You may be asking what's the need to create multiple boards. You see, what's unique about Pinterest is that it keeps users engaged in generalized content, as well as those that are specific to their interests. Therefore, multiple boards cater to your audience's differing interests.
52% of active Pinterest users use their mobile phones to browse Pinterest to guide their in-store purchase decisions. So ensure to make the most out of Pinterest boards!
Additionally, you should use relevant keywords in naming your board names to increase the likelihood of appearing on the "Picked for You" page and on the interest feeds on the platform.
For instance, if you're trying to target people who are interested in diet fads, then name your board "Scientifically-proven Diet Fads" or "Diet Fads for Busy Adults" to target busy adults who are meticulous about changing their lifestyle for the better.
On Pinterest, it's better to be clear than clever. Board titles such as "Apple-tite" or "I loaf this diet dough much" will lessen your chances of showing up on the "Picked for You" feed.
Make sure to include relevant keywords in the description as well. Use or create cover photos to establish branding.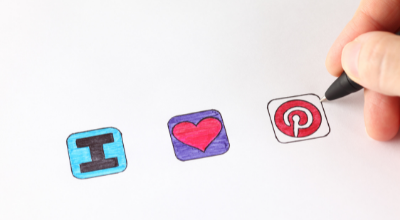 3. Boost your repins and engagement
Data from Social Marketing Writing shows that 80% of Pinterest pins are repins. If you want to become number one in various keywords on Pinterest, you should know that the total number of repins your pin gets within a time period plays a massive role in the platform's search rankings.
For instance, a pin with 100 repins within two days after publishing will outrank a pin that garnered 100 repins in 10 days.
On the other hand, you should also share others' content to show that you do not only care about your products and services but also value other people's ideas.
4. Design graphics with Pinterest in mind
When choosing or designing your own graphic content for Pinterest, make sure to optimize its size. All pins have a uniform width and unlimited length. The ideal size is 736×1102. You can also use longer images to stand out on boards. It has been proven that tall images are more attention-grabbing and easier to digest than wide images.
Here are some facts and tips to keep in mind:
Orange, red, and brown images get twice as many repins than images with dominant blue color.
Using various dominant colors have 3.25 times more repins than those images showcasing only a single dominant color.
Images that have less than 30% background get more repins. Additionally, images with less than 10% background get 2-4 times more repins than photos with more than 40%.
5. Be descriptive
Striking visuals aren't enough to drive organic traffic to your website. Make the most out of Pinterest marketing—and by that, we mean incorporating a website link and description in it. For instance, you can put your brand name in the first line of the description to increase your brand visibility. And as was previously mentioned, make sure to include relevant keywords in the most natural way possible.
Creativity and brevity are your allies in winning the Pinterest marketing game—make sure what you put out there captures and converts.
6. Join a Pinterest group board
Joining a community board is ideal for gaining more traction to your Pinterest profile and website. A group board is like a regular board, except that the board owner can invite other users to pin on their board. It is a great way to collect ideas as well as collaborate with users online.
We do not recommend inviting hundreds of people to a group board. You just have to invite or join a group board that doesn't have a massive following but is incredibly relevant to your niche.
7. Be consistent
Like in any social media platform, consistency is key to gaining more followers on Pinterest and, ultimately, on your website. Keep your viewers engaged with you. Don't just repin for the sake of repinning—do it with a purpose.
We recommend posting at least 1 to 4 pins daily. If you missed publishing pins for the past few days, don't pin by bulk within 3 to 10 minutes. Instead, spread your pins throughout the day to avoid spamming.
8. Determine your peak hours
Test different schedules to determine the best times to post on Pinterest. The best times usually depend on your target audience, but take this data by Hubspot as a starting point if you're new to Pinterest: Saturday mornings are the ideal time to post on Pinterest. Additionally, according to SocialFresh, pinning past 8 pm also yields better results.
9. Created an ad
The quickest and easiest way to boost Pinterest engagement rate and drive traffic to your website is through a sponsored ad. You can decide how long the ad runs, how much you are willing to spend, and who are the people you want to target.
To promote a pin, here's what you'll need to do:
Pick one of your best Pins so they will be more exposed in the most relevant feeds.
Determine your target audience.
Pay for results. You can choose to pay for visits to your website or Pinterest engagements.
Measure your ad's performance to see what's working and not.
10. Include a call-to-action
Want to keep your audience engaged? Then don't forget to attach a call-to-action. Quicksprout tells us that there is an 80% growth in engagement for pins that have a call to action." So include a CTA either in the photo or description.
Pinterest is a great yet underrated platform that will drive traffic to your website only if you use it right. Utilize any of the traffic-boosting strategies mentioned, or better yet, leave it to the hands of professional Pinterest marketers in Brightminds PH.